London and UE Removal services with fair prices. Our removal services qualities are: fast, reliable, cheap
Office and house moves are always a difficult time, especially when it comes to actually moving things from one place to another
Removal services from SoFast Transport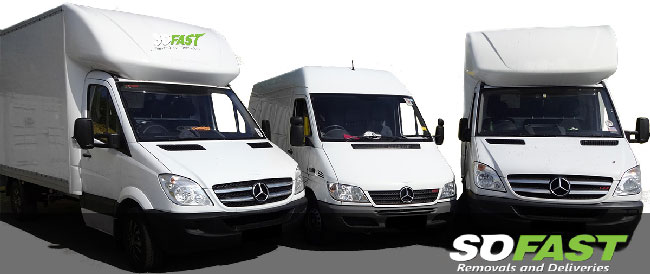 We provide all aspects of removals and packing services and have a range of vans and lorries to suit your requirements.
When it comes to moving house or office, we lighten the load in every way. We pick up, transport, deliver, assemble and dispose of pretty much anything and everything. So whether you're starting a new life with your family or downsizing your office, we're here to make it as easy on you as possible. Beginning with step one: A free, no-obligation quote.
We cover the following areas as part of our removal services.
Surrey Removals
Croydon House Moves
Kingston Removal Services
House Moves in Epsom
Ewell House Moves
A helping hand or four
Office and house moves are always a difficult time, especially when it comes to actually moving things from one place to another. Luckily our two man and van service means each van comes with two delivery men*, so there's no need for you to lift a finger.
*Unless otherwise agreed
We're there for you 7 days a week
Whether it's a public holiday or the world cup final, we'll be at your home or office whenever you need us. Don't believe it? Get a free quote now and see how committed we are.
Store pick-up and drop-off service
That new sofa isn't going to fit in your car and that new desk won't drive itself to the office. Which is why we're always more than happy to collect it from the store and deliver it for you.
Home And Office Removals
Unlike most removal companies, we go that extra mile in more ways than one. So if you're stuck with an old kitchen table or an unwanted filing cabinet in the office, give us a call and our disposal service will collect it and dispose of it responsibly.
In with the new
Instead of just moving your new wardrobe or table to your home or office, we'll unpack it and assemble it then and there.
Contract jobs
Our 'extra mile' approach to office and house moves means we have a lot of repeat bookings and contract jobs. If you'd like to use our service on a long-term basis then simply get in touch for a free quote.
The first step to making the right move
The easiest move of your life is just a click away. Get a free quote right now and see how straightforward the whole process can be.
Find out more by selecting the service you are looking for:
[su_button url="https://sofastremovals.co.uk/house-removals-london/" style="3d" desc="London, UK UE house removals" title="House Removal Service"]House Removals London, UK and UE[/su_button]
[su_button url="https://sofastremovals.co.uk/office-removals/" style="3d" desc="London, UK UE office removals" title="Office Removal Service"]Office Removals London, UK and UE[/su_button]
[su_button url="https://sofastremovals.co.uk/man-and-van/" style="3d" desc="London Man and Van Service" title="Office Removal Service"]Man and Van London, UK and UE[/su_button]
[su_button url="https://sofastremovals.co.uk/european-removals-fast-and-easy/" style="3d" desc="European Removals" title="European removals"]European removals and delivery services[/su_button]
[su_button url="https://sofastremovals.co.uk/motorbikes-deliveries/" style="3d" desc="Motorbikes Delivery Service" title="Motorbike delivery in UK and UE"]Motorbike delivery in UK and UE[/su_button]
[su_button url="https://sofastremovals.co.uk/ebay-deliveries/" style="3d" desc="SoFast your eBay mover" title="Ebay Delivery"]Ebay Delivery service provider in UK and UE[/su_button]
[su_divider]